Notes from the Universe….by Mike Dooley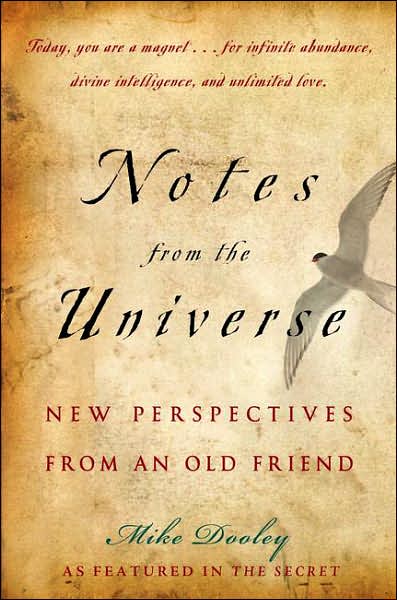 http://panamaoffshorefish.com/youtube.com/embed/5sygIRTM0UI What if the Universe were to send you frequent reminders of the absolute power you have over your life? Author Mike Dooley, an interpreter for the Universe, has done exactly that in Notes from the Universe — a collection of empowering, invaluable truths that can be read front to back or opened at random. This first book in the Notes from the Universetrilogy teaches its readers to live a life far richer than they had previously thought imaginable.
my website A question, from your friend the Universe:
online dating sites for us and uk Just how much time do you spend thinking big?
I mean, really, really BIG?
Good, very good!
Because that's exactly how much of
"It" you're going to get!
What a coincidence.
Mike Dooley is an international tax accountant turned entrepreneur turned writer for "the Universe." His Notes from the Universe™ emails go out to more than 370,000 subscribers, and have since spun off into books, calendars, greeting cards, and world tours. As the bestselling author of Infinite Possibilities and Manifesting Change, with works translated into twenty-five languages, and a featured teacher in The Secret book and DVD, Dooley is actively using the concepts and principles he expounds upon to travel the world, speaking on life, dreams, and happiness. For more on Mike and to sign up for free, daily Notes from the Universe visit www.tut.com!
This entry was posted on Sunday, September 25th, 2011 at 5:47 am and is filed under Affirmations, Books. You can follow any responses to this entry through the RSS 2.0 feed. You can leave a response, or trackback from your own site.